Imagine you are enjoying the New Years Eve or 4th of July celebrations with your friends, then comes the moment you have been waiting for, the fireworks. With the very first bang your dog begins to panic, bark, run around frantically and is totally uncontrollable. Dogs and fireworks just don't mix.
Dogs fear of fireworks is a a normal and common phobia for canines. Dogs hearing is said to be up to nine times more acute than human hearing so it makes sense that they will suffer from anxiety symptoms or panic when they hear unpredictable, loud banging sounds. Even a confident dog can tremble and panic when they hear unfamiliar sounds or abrupt noises.
In this article we look at some practical solutions to manage your dog's behavior when there are loud or abrupt sounds with the following;
Fireworks and thunderstorms – What To Do.
There are some things that you can do to help your dog be less sensitive to fireworks sounds so they can feel safer during the festivities. These fall into three main categories
Desensitization Method – Dog training.


Physical tools to reduce stress.
Desensitization Method.
Below I have included a YouTube video for you to play to your dog. This type of sound can be used to help desensitize your dog.  Here are some points on how to desensitize your dog to the sound of fireworks. This can also be done with the sounds of a thunderstorm which is another time when your dog can experience high levels of stress or anxiety.

Play the video, or other fireworks audio to your dog on a very low volume.

Take note if your dog is exhibiting any anxious behavior and if they are, reduce the sound again until your dog is comfortable. Remember, dog s have acute hearing they can hear sounds that we can't.

While playing the fireworks sounds incorporate a game or an activity your dog enjoys such as fetch or tug of war.

Be happy and calm – dogs pick up on their masters emotions and this can cause them to become frightened or anxious.

As your dog becomes more comfortable with the sounds of the fireworks increase the volume slightly and play it again.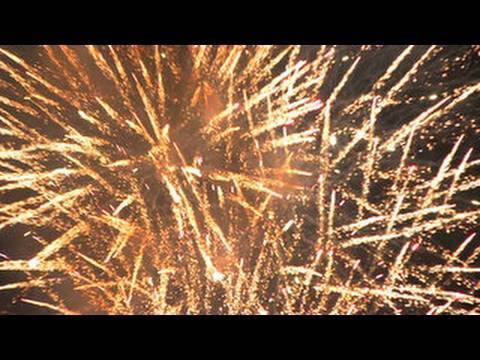 Disclaimer: This video is only an example and has not been proven to reduce the fear of fireworks in dogs. This video is offered to show of the types of noise you should look for and use to help your dog with fireworks sound desensitization. I would recommend using three to four different videos or audio tracks during the desensitization method.
Using a physical products.
There are some great products available that can instantly calm your dog during fireworks or thunderstorms. The best of these is the ThunderShirt. It is easy to use, practical and is very affordable.
The ThunderShirt has helped my dogs during times of unexpected noise and are equally useful during fireworks displays and thunderstorms. I love the ThunderShirt as it offers an immediate solution to a very real problem.
Take a moment to watch the video of how the ThunderShirt works for ordinary people in a number of different situations.

Learn more about Thundershirt.
Other Ideas To Calm Your Dog During Fireworks.
If there is not enough time to properly desensitize your dog from fireworks sounds, or the desensitization method has not completely ended your dog's fear of fireworks, there are things you can do to help ease your dogs fears.
Stay calm and don't change your behavior. Most people feel obligated to baby their dogs when their dog is exhibiting signs of fear or anxiety. Most people will cuddle their dog, pat them or fuss over them and instead of making your dog feel better this type of attention is actually showing reward for the fearful behavior and as a result it reinforces their fear reaction and exacerbates the problem.

Try to remain neutral during the fireworks and don't act differently. If you anticipate of your dog's reaction to fireworks in a negative way your dog will pick up on your mood and emotions. If you appear tense when you hear and see fireworks because you are worrying about your dogs' reaction, you may make their fear worse. Be mindful of your body language, your dog needs to know that there is no reason to be afraid.

Put on some music or turn up the volume on the television set. This can help to drown out the sound of the fireworks. Close the windows and doors to help muffle the sound.

If your dog attempts to hide or find a safe place under a bed or in a cupboard don't be tempted to interrupt their instinctual need to find a safe place. Do not try to remove them from their safe place or force them out in an effort to show them that there is nothing to worry about. A frightened dog is only one step away from fear aggression, so don't push your dog past his comfort zone or you may get bitten or scratched out of sheer panic.
Speak to your veterinarian about medication options. Learn more about medications to reduce stress and anxiety in dogs at our article titled Dog Anxiety Medications.
Severe fear of abrupt noise.
If your dog has severe fear of fireworks and as a result becomes aggressive or destructive then it might be time to consult with your veterinarian. Some dogs go into panic mode and can be quite dangerous not only to themselves but to the people around them.
If your dogs fear of fireworks is severe then your vet can prescribe mild sedatives or anti anxiety medication to help your dog through the festivities. In my opinion, medication is only a good idea if all other methods have failed and your dog has the potential to be dangerous.
Once the fireworks season is over I would recommend trying the desensitization method again to help your dog get prepared for the next occasion. There are many things that cause dog anxiety and fear reactions in dogs.
Don't forget to leave a comment to tell us what has helped your dog's fear of fireworks. We hope you have found some helpful suggestions to help your dog with our article about Dogs And Fireworks.